UK's first comparison site for DIY and building supplies launches
Go Banana, a building supplies e-commerce start-up, is taking on industry heavyweights B&Q, Travis Perkins, Selco, Wickes and Jewson to compare the prices of 50,000 searchable products.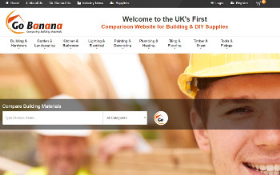 Go Banana is now live at www.go-banana.com
Claiming to save customers 20-35%, Go Banana is a platform for builders, tradespeople and DIY enthusiasts alike looking for purchase supplies at the best possible price. Go Banana's unique software creates a live shopping list which searches online 24/7 and shows the best results. Users can search, compare and buy across a whole range of building and DIY supplies, including building and hardware; tiling and flooring; plumbing and heating; painting and decorating; kitchens and bathrooms, and many more.
Construction is one of the UK's largest economic sectors, but despite the size of the building materials and home improvement market, estimated to be worth around £70 billion per year, there has been no way to compare and contrast the vast ranges of products on the market until now. Go Banana founder and managing director Rami Naori spotted a gap in the market after carrying out several property redevelopments.
"The UK building materials industry is a healthy and competitive one, with plenty of big name brands vying for a customer's attention," commented Naori. "But there is definitely scope to reduce the cost of construction and the whole life cost of buildings, and one way to do that is by shopping around for materials.
"We realised there was nowhere for builders, construction companies, building surveyors, property developers and home DIY enthusiasts to compare products, and we believed there was an opportunity for innovative technology to serve a real and useful purpose to make the entire process easier, cheaper and more convenient," Naori added. "It has taken a year and a half to create and design the bespoke software system underpinning the site to create an 'Amazon for building supplies'."
"We are planning to add 50,000-100,000 new products every month, and to become the most comprehensive building materials e-commerce platform in the UK," Naori added. "Go Banana is live in the UK now and we will be looking to expand it into other European countries and North America in due course."
http://www.diyweek.net/uks-first-comparison-site-for-diy-and-building-supplies-launches
If you have any further questions, or would like a little more advice feel free to contact us on info@go-banana.com